LED Light Therapy
This week we're talking about LED Light Therapy, what it is, what it does and how to incorporate it into your skincare routine at home.
LED stands for Light Emiting Diode. It sends low level light energy into the deepest layers of the skin, stimulating multiple functions of repair and regeneration depending on the color of light used. Originally pioneered by NASA to aid in wound healing in space, the study's positive results were applied to the beauty industry.
Light waves are measured in nanometers. For reference, there are 10 million nanometers in a centimeter. So when we talk about therapeutic light penetrating the body, it's only really able to affect the skin, our largest and outermost organ.
Light waves are broken up into visible colored light and invisible infrared light spectrum. Some light waves are longer than others. The longer the wavelength, the more theraputic the light can be due to it being able to penetrate deeper into the body. Below is a brief overview of light wave length and benefits.
Red - The longest of the visible light spectrum (penetrating 620-700 NM), red light is incredibly anti-aging. It helps to trigger the production of collagen and elastin, plumping the skin and minimizing wrinkle depth, in addition to stimulating ATP production which is what our cells eat for energy. It also is anti-inflammatory, promotes healing, lowers oxidative stress and can improve mood.
Amber - (penetrating 570-620 NM) This soothing blend of orange and yellow light is great for treating sensitivity and rosacea. It stimulates the lymphatic system, flushing waste to detoxifying the skin and increase cellular growth.
Blue - The shortest of wavelengths (penetrating 405-420 NM) is incredibly anti-microbial and ideal for treating acne, reaching just into the pores, blue light targets a specific bacteria neutralizing it and preventing its ability to form acne.
Infrared - Part of the invisible light spectrum, infrared has the longest wavelength (penetrating 700-1400 NM). It's anti-aging due to its ability to stimulate fibroblasts which create the proteins collagen and elastin. This allows it to penetrate our muscles, reducing inflammation and promoting muscle recovery, making it an amazing treatment for post workouts and chronic inflammation.
Which device is right for you?
There are a handful of LED Light Therapy devices on the market for home use. I personally use the NuFace Trinity and its Wrinkle Reducer attachment because I like that it allows me to have two modalities in one, micro-current and LED. But there are some amazing options for stand alone LED lights that I'll provided below.
I love the duality of this device, micro current and LED in one handheld gadget. The LED blends Infrared, Amber and Red light to stimulate collagen production, reduce wrinkles and calm the skin. The kit costs $429. The Wrinkle Reducer attachment alone costs $149.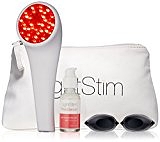 The benefit of the LightStim device over the NuFace is its larger surface area. Its 3" surface area allows you to treat your whole face in less time. Similar to the Nuface, it utilizes a blend of Amber, Red and Infrared light. $249
LightStim also offers a blue light, something NuFace has yet to offer. This handheld blue light is amazing at treating and preventing acne. Pair it with the Red Light to further reduce inflammation and heal the skin. $165
This hands free option has been made famous by celebrity estheticians the world over. I was excited to find that Deesse has created a more affordable option, allowing you to buy the mask with only one color option, giving you an incredible savings. The original professional mask set included multiple color therapy for a whooping $1600. This single color mask will only run you $350.
Unlike the handhelds above, a Deesse mask session will last 20-30 mins, giving you a more intense treatment. This means you don't need daily use of the device, saving you time in the long run.
Where To Use Your Handheld Device
Target any area of the face & chest. Feel free to get creative and try it out on your hands, knees or wherever you're looking for some rejuvenation !
My favorite LED hack is to put the light flush on my mouth. This targets any fine lines on the upper lip, diminishes unwanted depth in the nasolabial fold AND plumps your lips!
For those of you with NuFace devices planning on doing both a micro current and LED treatment, start with micro current.
Here's my go to routine:
Cleanse and dry skin. Check out my Favorite's List for suggestions.
Apply a conductivity gel. I love Organic Aloe or Colloidal Silver.
Do your NuFace micro current routine.
Remove any excess gel. If you're using NuFace's Conductivity Gel (not their 24 K Leave Ons), thoroughly remove.
Tone skin, apply eye cream and antioxidant serum. See my top picks below.
Do your targeted LED treatment using the Trinity Wrinkle Reducer attachment.
Apply your moisturizer and enjoy your day!
Oxidative stress
Oxidative stress is the imbalance between the production of free radicals, harmful molecules that lead to premature aging, and antioxidants, good guys that inhibit oxidation which your body uses to counteract and neutralize free radicals' harmful effects. LED Light Therapy helps to reduce oxidative stress in the body. However if over used, Light Therapy can actually cause oxidative stress.
Frustrating, right?! Don't worry! I've got you!
Multiple clinical studies have shown that by using an antioxidant serum, preferably one that contains Resveratrol or Green Tea Extract, you can negate any of the possible oxidative stress the light might produce. Therefore, I highly recommend using an antioxidant serum when using LED Light Therapy!
Clinical studies on Light Therapy and Oxidative Stress:
LED Light And Green Tea Cream Smooth Facial Wrinkles
Resveratrol Prevents High Fluence Red Light-Emitting Diode Reactive Oxygen Species-Mediated Photoinhibition of Human Skin Fibroblast Migration
Antioxidant Serum recommendations
Here are two antioxidant serums at two different price points, $35 and $135. I wanted to have something that was accessible for everyone but also suggest something that I know will truly transform your skin. Keep in mind, serums are the most effective way to introduce active ingredients into your skin. They are potent vehicles for results if you get the right one. This is why I always suggest, if you're going to splurge on one product make it your serum!
Simply Radiant Beauty Organic Resveratrol CoQ10 Antioxidant Serum
Organic Resveratrol CoQ10 Antioxidant Serum combines a concentration of 1% pure, stable resveratrol, synergistically enhanced with CoEnzyme Q10, Vitamin C and Vitamin E (alpha tocopherol) for optimized anti-aging antioxidant performance. This organic antioxidant formula is packed with 11 anti aging ingredients that neutralizes free radicals, supports skin's natural antioxidant defenses, and reveals visible firmness, even skin tone and radiance. $35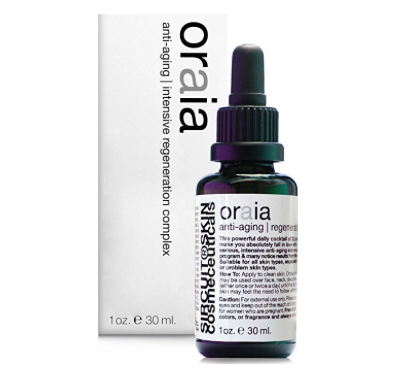 This has a MAJOR cult following!
ORAIA is a serious and intensive serum that neutralizes free radical damage and helps to protect against oxidative stress. This powerful daily cocktail of potent ingredients, like Goji Berries and Quercetin, will make you fall in love with your skin! This serum was formulated to include preventative as well as corrective benefits that provide powerful antioxidant protection, from tocopherols and boldine, and superior anti-aging benefits by creating an immediate visible appearance of lifting. Smoothing and softening properties work to enhance radiance while also addressing the specific needs of aging skin and helping to restore it to its youthful beauty. $135
If you're using a serum you already own with your LED device, make sure it doesn't contain any photosensitive ingredients. Things like Vitamin A, Retinol, Benzoyl Peroxide, even Vitamin C and certain fruit extracts can cause pigmentation. If your serum exfoliates or brightens in any way, apply it AFTER your LED treatment.
Contraindications
If any of the following applies to you, DO NOT USE LED!
Epilepsy
Pregnant
Light Sensitivity - eye or skin
Using light sensitive medications
Using a topical steroid
Under the age of 14
Thyroid condition
Thyroid Conditions
If you are suffering from either hyper or hypo thyroidism, please consult your physician before using an LED device. But I'd also recommend looking into the plethora of clinical studies showing the benefits of LED Light Therapy on thyroid conditions. Light Therapy doesn't just help your skin. Research shows it to be incredibly impactful for the treatment of thyroid conditions.
Make sure you're subscribed to both the BLOG and my YouTube Channel to get weekly skincare how to's from your favorite esthetician!
Disclosure: This post contains some affiliate links, meaning, at no additional cost to you, I will earn a commission if you click through and make a purchase.