NuFace Results on Different Faces
Hi Everyone!
What a whirlwind week it's been! I planned a last minute trip up to Napa to spend some time with my family and I can't even begin to tell you how necessary and wonderful it was to get out of LA. This town definitely has it's perks but it pales in comparison to the Napa Valley. I am eternally grateful it's my hometown and the setting for all family functions. Such a nice change of pace from living in the city.
So despite being on vacation, I still wanted to post something for you guys! It's not as in-depth as my usual posts. And now, after flying, I'm sick but still hustling to get this out to you!
Someone left me a comment on YouTube asking to see a NuFace tutorial on an older face. You guys are all familiar by now with the micro current results I get on my 32 year old face. I thought it would be fun to show you the results of a single NuFace session on a 69 year old face! But something fun and really interesting ended up happening...
My mom was gracious enough to volunteer to be on the channel, which was SO FUN! I think it will help a lot of you get a better idea of how to use the device at home. I strayed a bit from my Full Face NuFace Routine and really focused on her areas of concern - neck, nasolabial fold and eye area. I did multiple gliding passes and holds on these areas to try and give her the best results. The results were not drastic.
On older muscles, microcurrent takes time. My mom hadn't had a NuFace session in months so we were essentially starting from scratch. We got some lift at the brow bone, around the mouth and and there was a noticeable difference in texture on her neck. I think it was a good example of what a single use would result. This, again, is why I stress daily use. The more you put in, the more you get out.
My mom watches my videos just like all of you and was especially interested in last week's Rose Quartz Roller video. So after our NuFace session, off camera, I applied Argan Republic's Black Gold Regenerative Night Elixir and did the Regenerative rolling sequence I showed you all last week.
HOLY MOLEY! I was shocked at the result! Her face was more lifted and her lines! Guys, her lines were significantly reduced. We focused at the "11 lines" between her brows and, as you can see below, they completely softened. Her cheeks were fuller, the lines around her mouth less pronounced and her neck was like night and day. Needless to say, she immediately went online and bought a roller!
So when my sister-in-law, who was also up visiting, saw my mom's results she too asked if she could be on the channel! Extra fun!
Kris is 44, a busy mom of two and a fantastic realtor. If anyone's tuning in from the Phoenix area, check out www.mindfulagent.com, to have the most stress free home buying or selling experience imaginable! Kris owns a NuFace but hasn't used it in months, so again we were pretty much starting from scratch with her too. We filmed both her NuFace and Rose Quartz Roller sessions for you all to see. During both sessions, we focused on the nasolabial fold, eye area and intensely on the forehead. Kris's results were even more drastic than my mother's. Her "11 lines" almost disappeared and we really softened anything going on on the forehead, in addition to the nasolabial fold and mouth area.
Both my mom and sister air on the dehydrated side, so just introducing a hydrating oil like the Black Gold will help to minimize wrinkle depth. By using the roller over this oil serum, we were able to really push the product deep into the skin for maximum absorption. Then plump it up by stimulating blood flow to the surface. This helps to oxygenate the skin while diminishing wrinkle depth. Thus creating change in the surface of the skin, while the NuFace works on a muscular level lifting and firming the face from the inside out.
I think we can all agree this is a winning combination! If any of you try this at home, I'd love to see your results. Feel free to tag me on instagram or shoot me a quick email.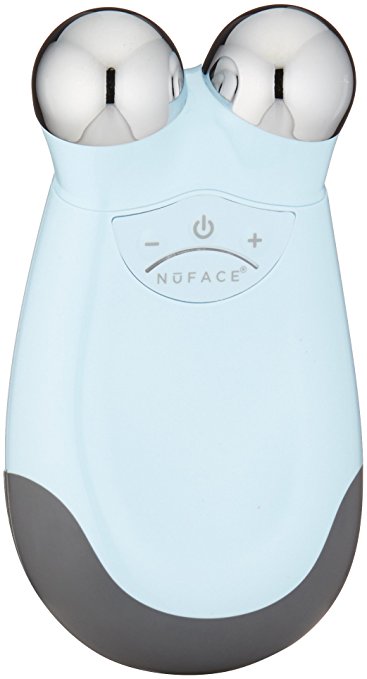 This is an at home micro current device that actively lifts and tones the muscle. This option is a refurbished device which saves you hundreds of dollars.
($295)
Dual Rose Quartz Facial Roller
Rose quartz is packed full of minerals, including silicium, magnesium, iron, sodium and oxygen. It has an amazing ability to reduce inflammation and support the renewal of skin cells plus heals and rejuvenates. Rose quartz facial rollers are also good for the heart and circulation, bringing oxygen to skin which improves tone, luster and glow.
Made of pure rose quartz
Each roller is unique and colors/grains vary.
Frame made of Brass
These are made so that you can remove the stones for cleaning if necessary.
Listing is for 1 Dual-head Rose Quartz Roller
($49)
Disclosure: This is not a sponsored post. This post does contain some affiliate links, meaning, at no additional cost to you, I will earn a commission if you click through and make a purchase.