Natural Makeup Brands I Love!
A big part of my job as an esthetician has always been being a makeup artist. This is actually how I got into skincare in the first place. Now that skincare, and specifically natural products, are my main concern, I want to follow my daily skincare routine with healthy beauty brands. With years of professional makeup artistry under my belt, these products can't just be good for you, they must also perform! Below I've put together a list of my favorite natural makeup brands that can match dirty mainstream companies head to head.
Jane Iredale Mineral Makeup
A long time favorite, I've used these products to create natural glowy "no makeup" looks to full-on red carpet glam for the Emmy's. With hundreds of products, Jane offers a full range of makeup to cover all of your needs. Their mineral blends are build-able, breathable and without talc or bismuth! Seven Jane Iredale products have earned the Skin Cancer Foundation Seal of Recommendation. Having SPF in your makeup is a huge plus.
Don't miss these products:
RMS Beauty
RMS Beauty products are formulated with raw, food grade and organic ingredients in their natural state, allowing their living, healing attributes to penetrate and rejuvenate the skin. These creamy formulations leave the skin dewy and hydrated while delivering excellent coverage. I love this line for its ease of use. Not all makeup needs brushes! I can do a full application in just 5 minutes, using only my fingers, which makes this the perfect line for anyone on the go.
Don't miss these products:
This carcinogen free range of natural vegan makeup and skincare has wowed me with one product in particular, Duet Perfecting Concealer. Its fluffy mouse like consistency applies weightlessly with the most unbelievable full coverage and is the most cost effective range on my list. This line is not to be missed! Plus, they offer samples for all of their products. An amazing way to try before you buy!
Don't miss these products: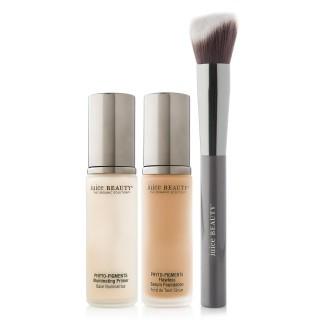 I've been a long time fan of this skincare range and was beyond excited when they teamed up with Gwyneth Paltrow to revamp their makeup line. All of their makeup is infused with the same fruit based ingredients their skincare is known for, giving you and extra dose of serum when you apply your foundation. Who doesn't love that?!
P.S. It took me a couple times to actually fall in love with the Serum Foundation. Just keep in mind, a little goes a long way!
Don't miss these products:
Phyto-Pigments Flawless Serum Foundation, $42.
Stem Cellular CC Cream, $39.
Photo-Pigments Last Looks Cream Blush, $24.
Phyto-Pigments Liquid Lip, $24.
More natural brands I love:
Bite Beauty - The only thing I ever go to Sephora to buy. These lipsticks are THE BEST! I especially love their lip crayons. However they do contain synthetic dyes so, sadly, not the cleanest item on this list. Use with caution.
Rituel de Fille - Hands down THE COOLEST natural makeup company on the market, offering lipstick and eyeshadow colors your inner goth will love with all her little dark heart. So... they do use hexylene glycol for a pareben free preservative... BUT THE COLORS!!!! My personal rule is one glycol in an ingredient list is OK, two or more and they're just replacing the parabens with an equally icky perservative.
Ilia Beauty - This natural makeup range makes MY FAVORITE HIGHLIGHTER of all time, Polkadots & Moonbeams.
Vapour Beauty - These creamy sticks make application a breeze. Great for sheer-medium coverage and for easy contour.
Kjaer Weis - So this is a favorite of many green bloggers. I love the idea of this line. Their foundations give full coverage with a matte finish. In my younger years, I would have been obsessed. As I get older, I find I wear less makeup, because I want my skin to show through, I lean toward lighter coverage foundations. However, their cream blushes are gorgeous! Happy is one of my favorites and, of course, one of the only blushes with synthetic dyes. Whomp whomp!
Tata Harper Cosmetics - Known for her skincare, Tata came out with a range of cheek products and I love them all. Her creamy pots of highlighter, bronzer and lip and cheek tints are a great addition to whatever base you're already using.
W3ll People - I like how cost effective this range is while also keeping ingredients to a minimum. I love the Bio Brightener Invisible Powder for setting my look.
Burt's Bees - I boycotted this line forever... because how clean can a company owned by Clorox actually be? But the accessibility of this drugstore brand wore on me, along with the price point. Honestly, the ingredient list is decent despite some "natural fragrance." The older I get, the less rigid I am. So again, use with caution.